Governments increasingly use engagement platforms to inform policies that will benefit their communities. Giving a voice to the public means government organisations can develop progressive engagement initiatives that better reflect the needs of their users. 
Offering a direct, valuable link between the government and the community, these engagement platforms promote greater involvement on issues that affect each individual. They also provide opportunities for everybody to come together and participate in a way that affects the community as a whole – no small task.
Unfortunately, the task becomes more difficult because many initiatives exclude people from under-represented groups. These individuals miss their opportunity to be heard for countless reasons, including:
shortage of resources
language barriers
general lack of awareness.
Regardless of the reasons, though, many government organisations know they need to do better. Australia is a tapestry of diverse backgrounds, cultures, stories and opinions, so missing out on such a rich variety of input holds us back.
And thankfully, awareness efforts across the country have begun to expand. People from all walks of life are now actively participating in, and engaging with, their community.
But with such a challenge ahead, how can governments truly engage with the public and bring back democracy to the community? 
One step at a time
No government can overcome the challenges with their community engagement initiatives overnight. Change takes time. The good news is that taking steps in the right direction brings you closer to ensuring every voice in your community is heard. It also ensures that the data shaping your important decisions truly represents everybody in that community.
In Victoria alone, 79 local councils spend around $7 billion on service delivery and $2 billion on infrastructure annually. They also manage over $70 billion in public assets. Before allocating all those resources, it's essential to ensure that the results meet the needs and interests of the public that the councils represent.
Ultimately, every voice matters. A person's age, gender, religion, country of birth, disability, language, finances or housing situation should never exclude them from having their say on what interests and impacts them.
Making as many people as possible aware of the services and programs they can engage with and access is the path towards a more inclusive, equitable community.
And on the road to greater, more balanced community engagement, we can start with three basic steps. 
1. Access 
A critical part of effective community engagement processes is unhindered accessibility. But what, exactly, does that look like? 
For events, training and information to be 'accessible', everyone – regardless of their personal circumstances – must be able to understand and access them. This, in turn, means: 
scheduling events and important information sessions at various times and in accessible locations. Council meetings are visible on engagement platforms like District Engage, which also allows people to RSVP 

there is a general lack of awareness around the existence of such platforms. User research has shown that the general user is not familiar with what to expect from "Your Say", "Have your say" platforms of local governments. The public does not know there is such a thing 

using colloquial language, providing adequate language translation services and information materials in other languages
adhering to all online accessibility guidelines, including WCAG compliance
various channels to inform the community around engagement efforts to ensure the messages reaches the full community: website, social media (younger generations), physical pamphlets (older generations), etc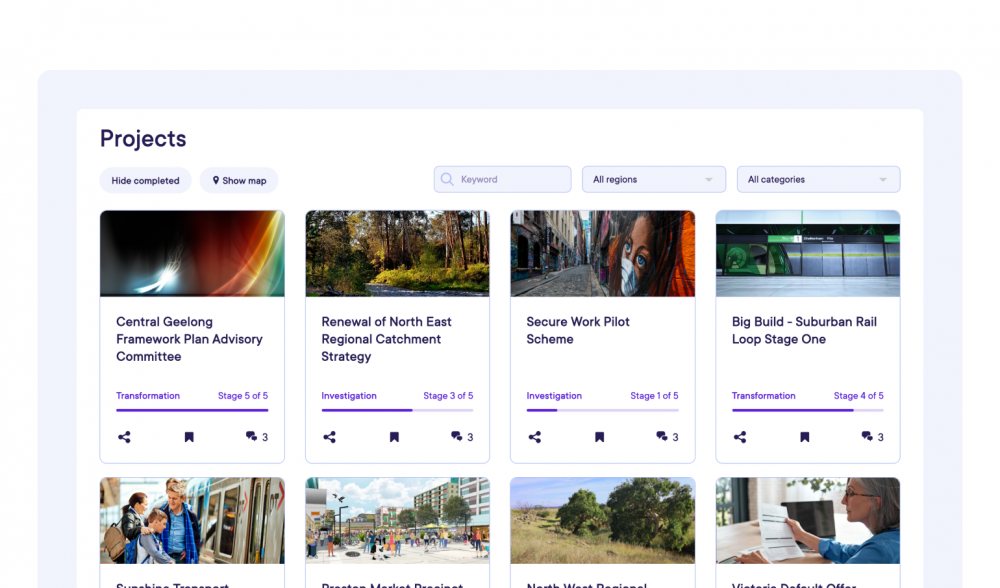 2. Representation 
Quality outcomes and decisions require guidance from a wide range of community voices, from students right through to families and retirees. This means identifying the people who will most likely be affected and reaching out to them before making any decisions. This process can be difficult given the broad range of community members and circumstances, but it will provide the greatest representation possible when making government decisions.
So how can you determine who is affected, enhance your potential outreach to these people and identify the participation barriers they face? 
Online community engagement platforms like District Engage offer a multitude of ways to segment and gather all of this information via our engagement toolbox, which includes: 
Forums: bring together decision-makers and members of the public to drive deeper discussions on community matters.
Map-based feedback: gather insights into specific geographic locations via spatial feedback.
Virtual walls: a brainstorming tool that brings everybody together to share what inspires them and how it can help the wider community.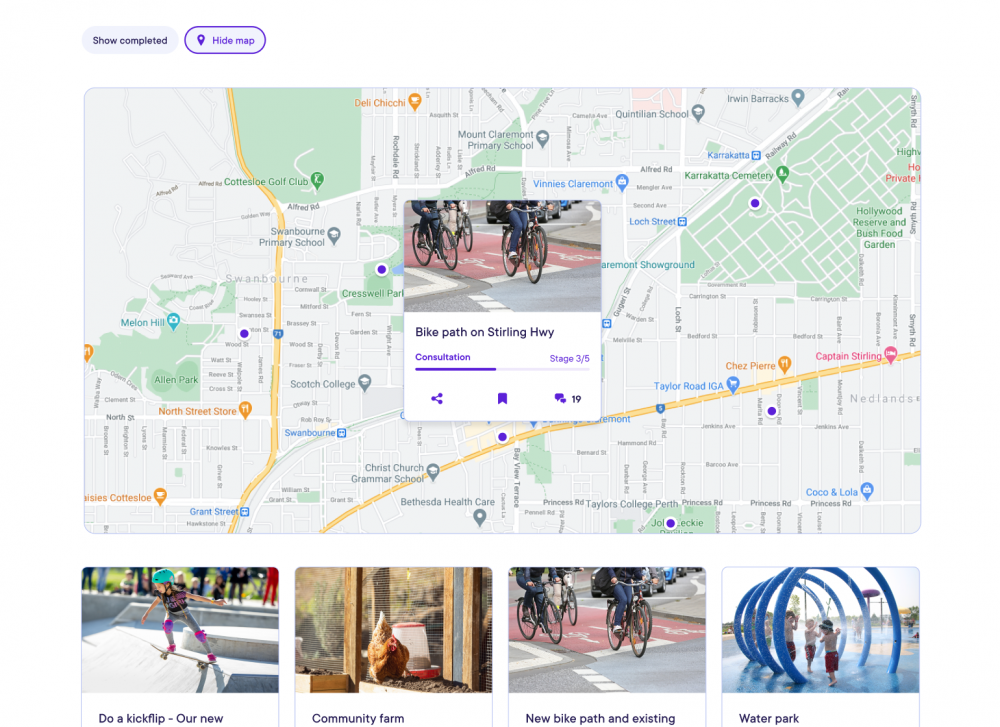 3. Equity 
Equity in community engagement focuses on ensuring that all voices are heard equally from each part of the community. Ignoring this would result in certain sections of the public starting off on the back foot – a clear disadvantage. 
It's vital to recognise each community member's valuable insights, experiences and ideas. Only by developing a robust framework for equitable community engagement can we transform our communities. And only by doing this can we provide opportunities for marginalised people to not only participate in – but also lead – local engagement initiatives.
Deploying adequate resources 
Online community engagement opens doors to new opportunities for collective discussion and decision-making. It brings diverse groups together from far and wide – often from geographically isolated communities. 
Healthy online community engagement benefits both governments and their citizens alike, with key benefits including: 
more focussed planning and outcomes
reduced travel and preparation budgets
a safer space for people to share their ideas without judgement
Unfortunately, giving community members a democratic voice does come with some resourcing challenges. The biggest of these is internet access. 
Although nearly 90% of Australians have access to the internet, millions still don't. This leaves many people – particularly disadvantaged, disabled and elderly citizens –  without a voice. The 'digital divide' all-but-silences their contributions. 
The divide also highlights a chasm that government decision-makers often ignore. In doing so, it fosters a greater sense of alienation and disconnect in the community – entirely negating the point of online engagement initiatives. 
Here are our top three recommendations for bridging the gaps.
1. Balanced community engagement 
Online community engagement is certainly beneficial to governments on all levels. However, casting a wider net with traditional methods – like face-to-face events and mail – is also crucial to address everyone's interests.
2. Embrace representative groups 
Utilising data from your online engagement tools is a great first step in your strategy, but don't make it your last. Gathering detailed information on community demographics can bring together small, representative groups. 
This can help you to understand where to go next, and also garner legitimate support from the wider community further down the track.
3. Increase tenant participation 
As of 2016, 32% of all households were renters. Because these residents don't pay rates, they can often miss out on the chance to be consulted on issues that directly affect them. 
Promoting awareness of this when deploying engagement initiatives enables local governments to make it easier for tenants to access housing information. This, in turn, can provide opportunities for those tenants to become involved in their communities.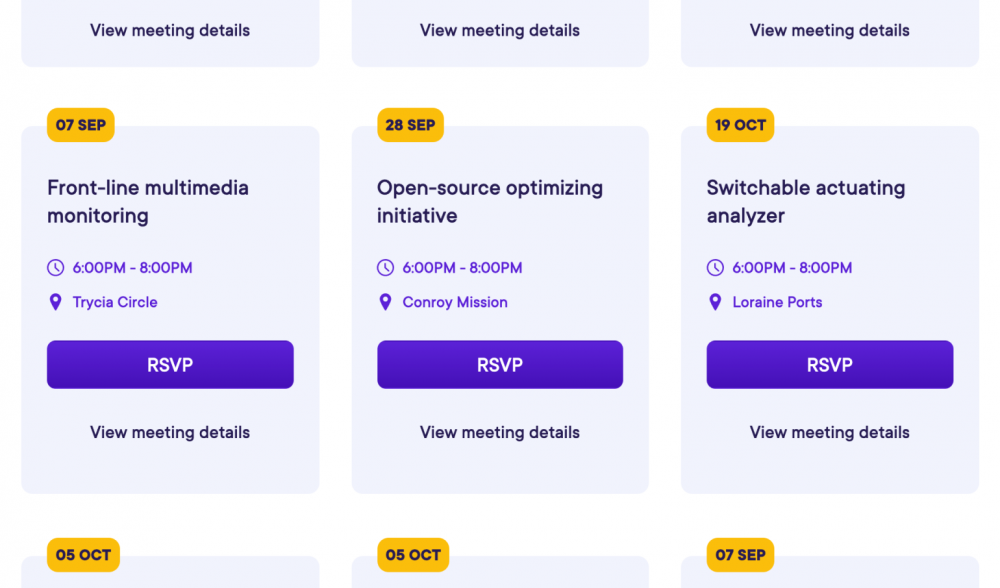 Trust and commitment 
Ultimately, democratic engagement builds positive relationships within communities and fosters productive relationships that are driven by a shared meaning.  
But democratic community engagement requires trust – in both policymakers and in the community itself. 
The aim is to instil confidence in a process that benefits councils, participants and the community as a whole. Meanwhile, overcoming challenges to community engagement requires: 
outreach
consideration for wider demographics
an equitable process.
Transparency 
While roadblocks may slow the decision-making process, continuous engagement between local governments, organisations and communities can tangibly affect outcomes. Better yet, the people who helped to inform community decisions know that their voice matters, which then builds trust between councils and the communities they represent. 
Community involvement from the start, and transparency throughout the process, leads to long-lasting positive impacts. 
Gathering and analysing data – then genuinely incorporating feedback – can create change and bring diverse groups together to increase collaboration and participation.
Getting everybody involved 
Governments need to consider a range of factors and overcome constant challenges to ensure their community engagement activities are equitable and democratic. Otherwise, the data they collect has no value. 
The more governments engage people from all walks of life, the better they can serve their communities. Everyone should get a say – not just those who have the time or means to get actively engaged. 
Once we find a voice for those who previously had none, community engagement will be truly democratic.
If you're interested in learning more, discover how District Engage can help you meet the Victorian Local Government Act 2020 community engagement requirements.