District Public Notices
Discover the next generation of public notices.
We've simplified and modernised this essential service by creating a digital platform for the publishing, approving and viewing of public notices.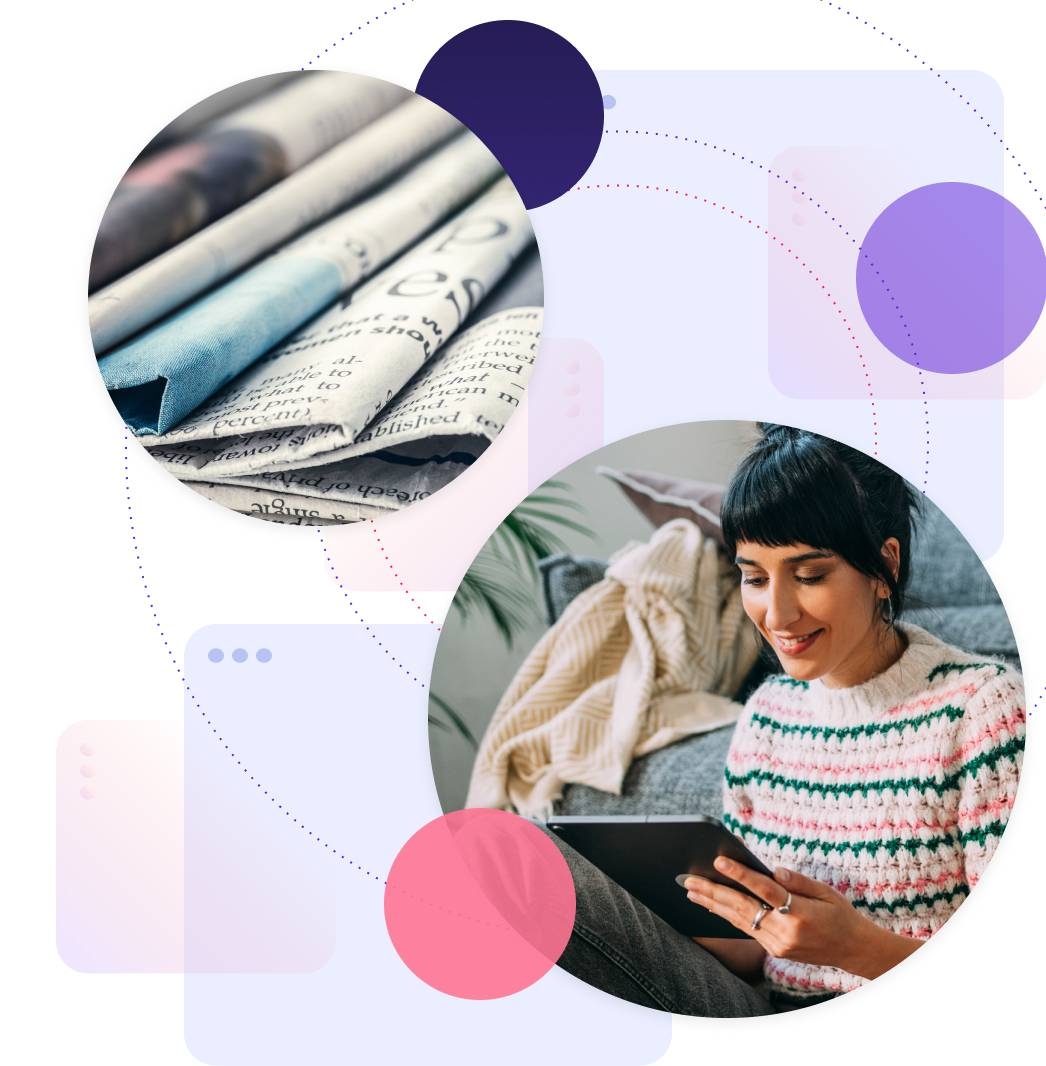 Publishing statutory public notices is critical for accountability and transparency.
District Notices is designed to help everyone from higher government to small organisations meet their legal requirements while improving accessibility for the public to search and view notices about issues that affect them.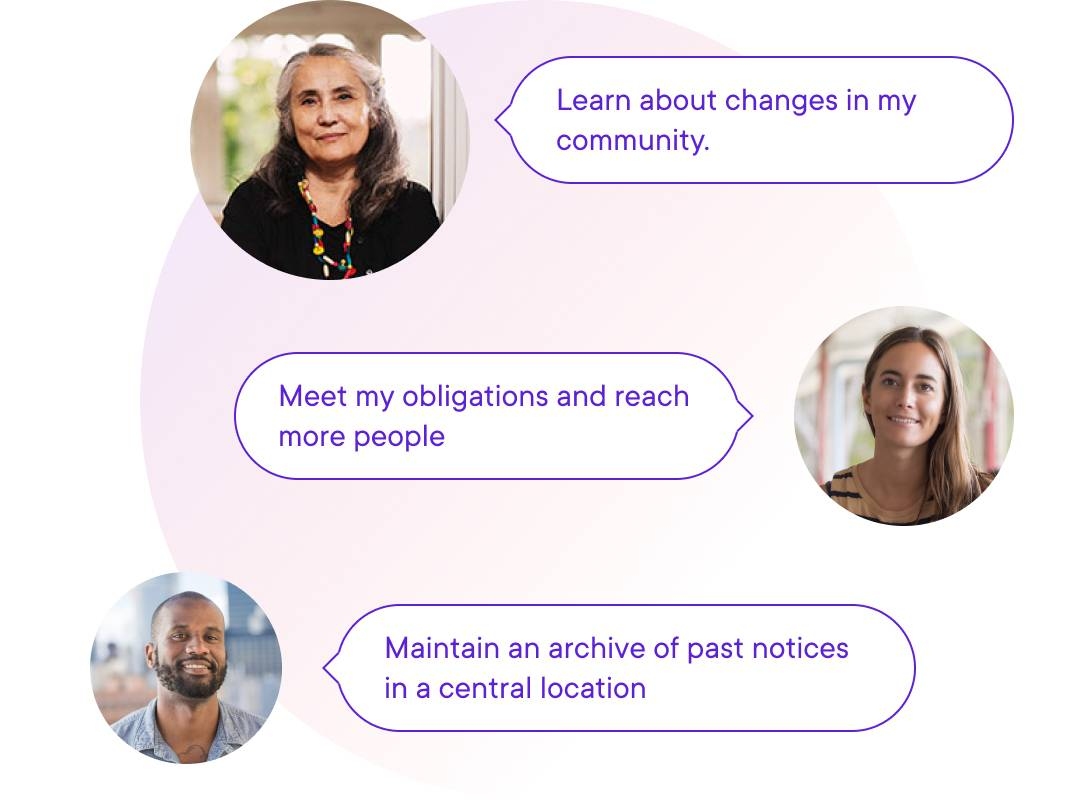 A simple and intuitive approach to writing, editing and submitting public notices.
Administrators can quickly and easily manage the process of publication of notices, while the design of the homepage can be customised with drag and drop components that can be populated with content. For users, the intuitive interface makes it easy to submit notices, and links, images and documents can be added as required.

Notices made simple
We've simplified the task of submitting and editing public notices. 

User-centric design
Administrators can easily manage, view, filter and edit notices from a customised interface while managing users and teams of authors.

Powerful notifications
Whether you're a notice author or an administrator, you'll be informed about the status of your notices.

Secure login
Two-step authentication for administrators and restrictions for other users ensures safety and security.

Team-based roles
Users are assigned roles with each role carrying specific permissions and abilities.

Accessible for all
The District Notices platform is fully compliant with WCAG 2.0 AA accessibility standards.
Streamlined workflow
Manage public notices with a comprehensive workflow system that allows administrators to view, filter and manage the published status of notices from drafts to approved, rejected and unpublished versions, while an audit trail keeps track. You can configure the workflow to meet your organisation's unique needs. 

Robust approval process ensures new teams and members are approved prior to publishing notices on the platform, ensuring strict security protocols are maintained.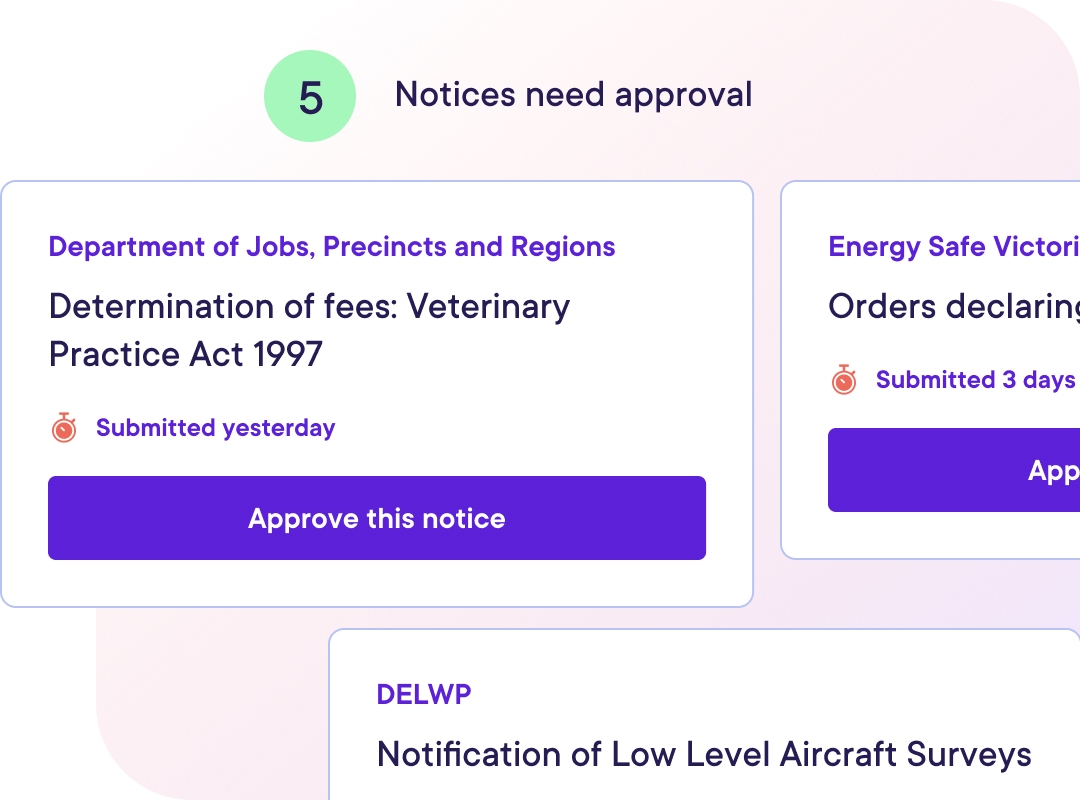 Notifications
District Notices is designed with a powerful notification engine that updates users at every stage of the publishing process:
Notice authors are informed on the status of their user account and submitted notices 

Public users are notified when a new notice is published in a category or location they have subscribed to

System administrators are notified of any request to create a new team, join a new team, or approve a submitted notice.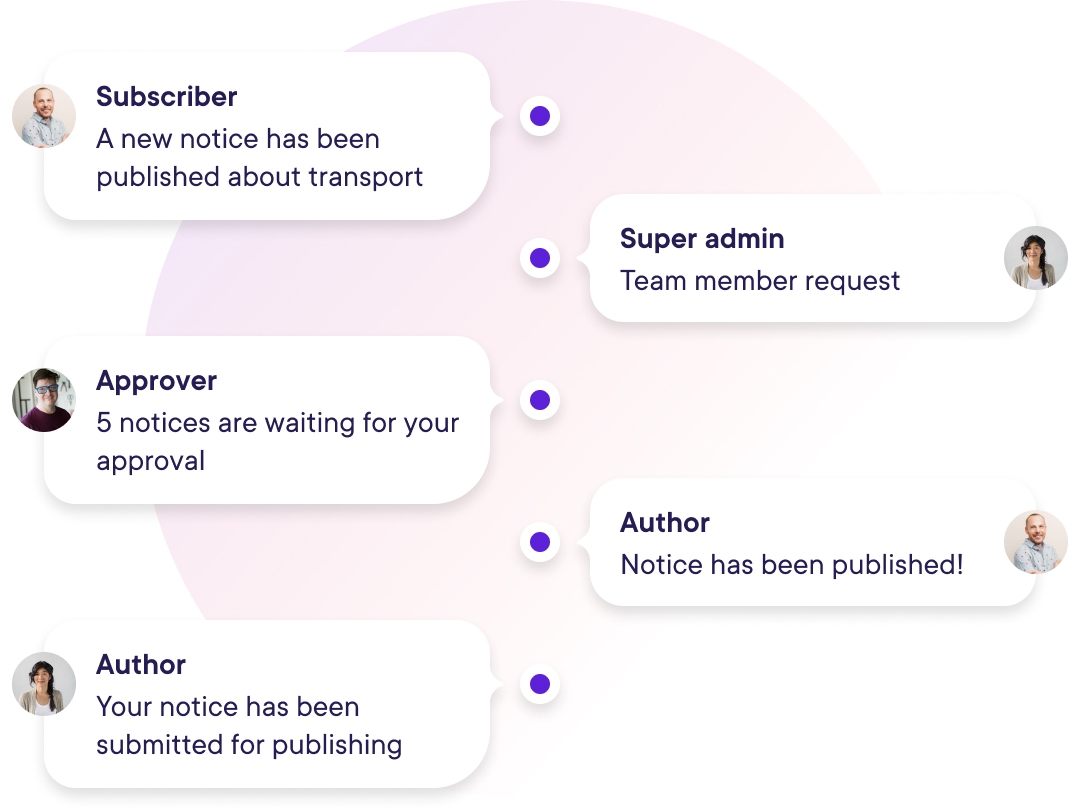 Collaboration made simple
Managing users is easy with District Notices. Administrators can easily search for users on the platform, and view their contact details, assigned roles and registration details. New users can be added and existing users can be edited or deleted as required. 
Users can also be in linked teams, allowing notice authors from the same organisation to collaborate on creating notices, and administrators to manage these teams and the approval process accordingly.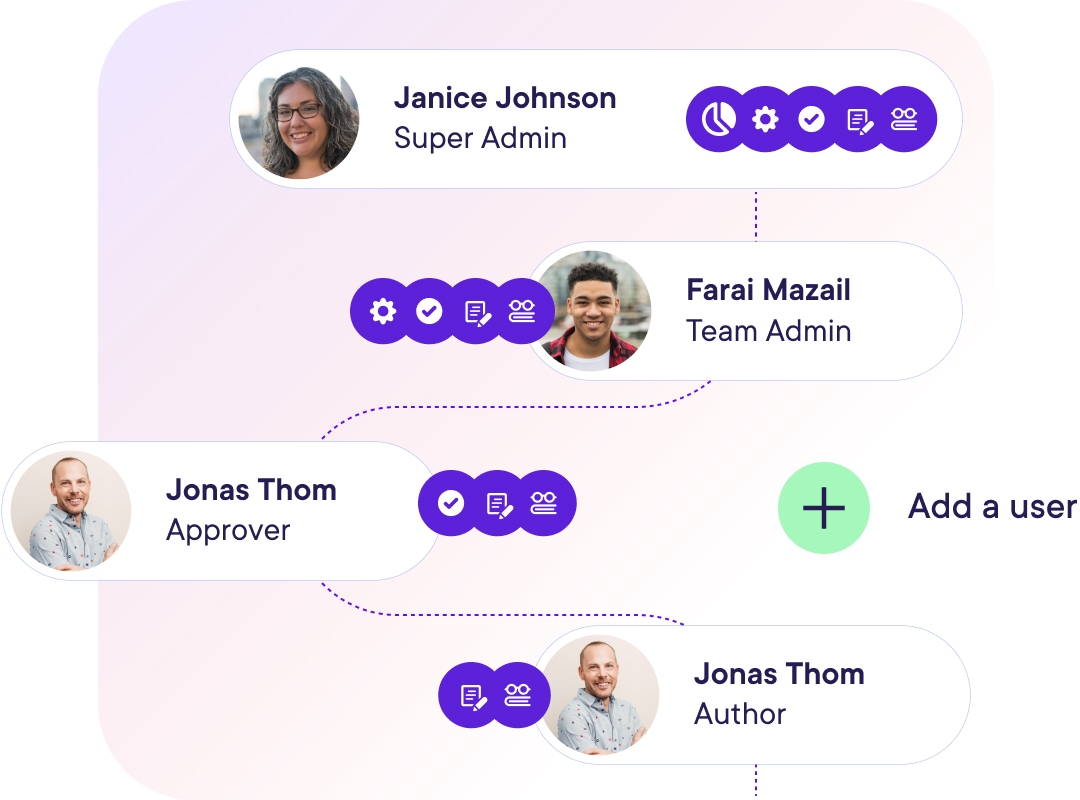 Suggestive search
We've designed District Notices to be intuitive and simple to use. That's why we've included features that administrators can deploy to make it easier to use the platform. 
Administrators can upload and edit lists that feed into frontend functionality, such as a list of departments and sub-departments within government organisations, a list of legislation or even a built-in business registry search tool. When users create an account or submit a notice, they can use the suggestive search function to easily find the sub-department, business number or piece of legislation that their notice relates to.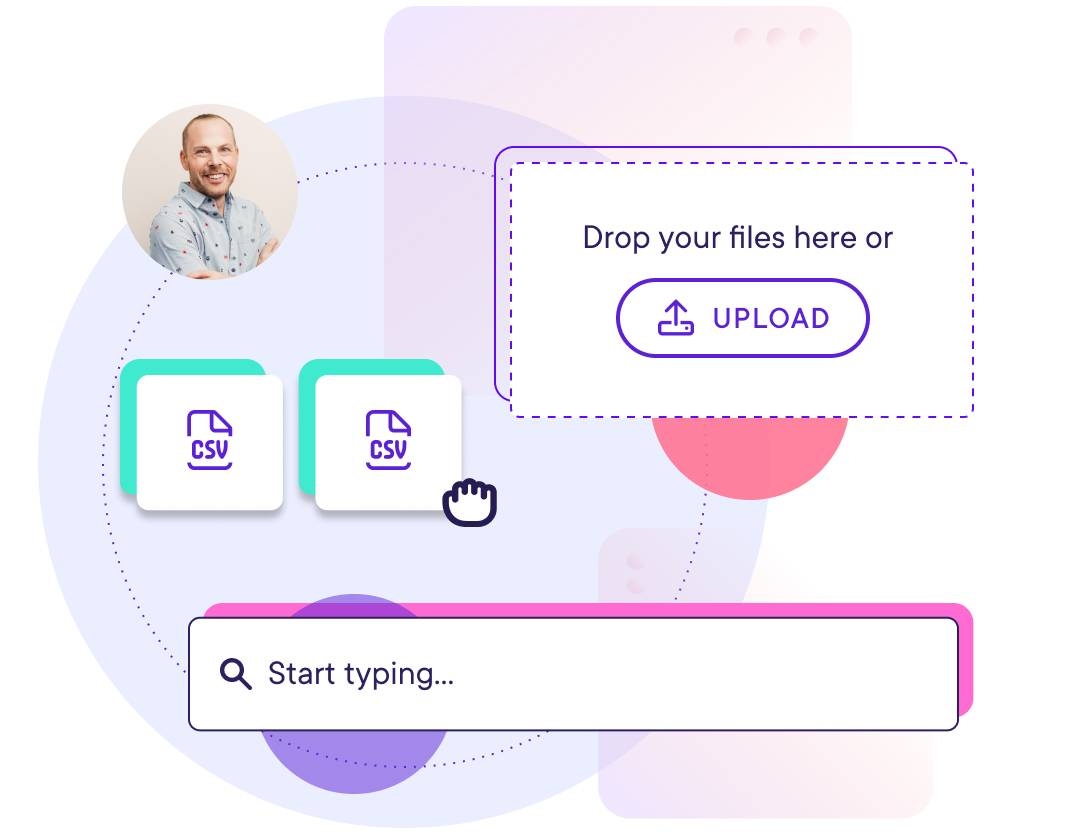 Taxonomy and tagging
Adding category tags to a notice makes it easy for other users to find notices that interest them. You can add multiple sets of category tags to classify notices by topic (sports, construction, transport etc) or location (postcodes, suburbs).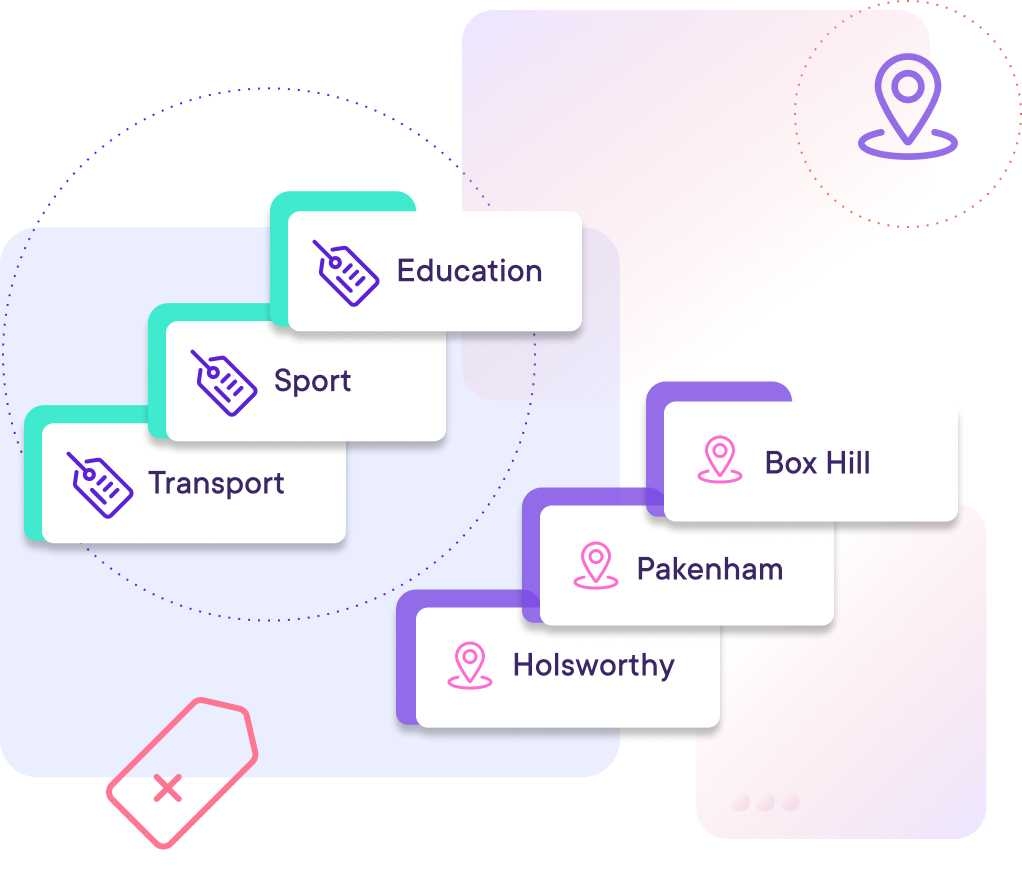 Explore
Whether you're a publisher, a whole-of-government organisation, or a local government body, speak with us today about how District Notices can be built to suit your organisation.
Product guide
A deeper dive into our engagement tools and services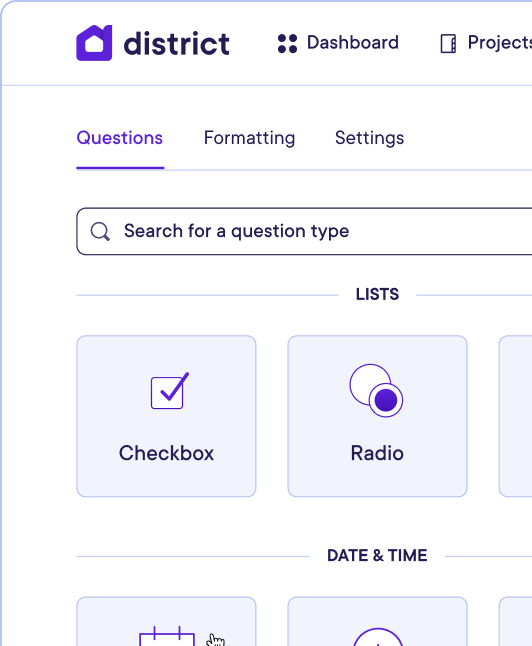 Guided tour
Book a guided walk through of our user admin and powerful tool set.