District Smart Forms
Create, manage and analyse forms and surveys with ease. 
Collecting and reporting on community feedback is effortless with District Smart Forms.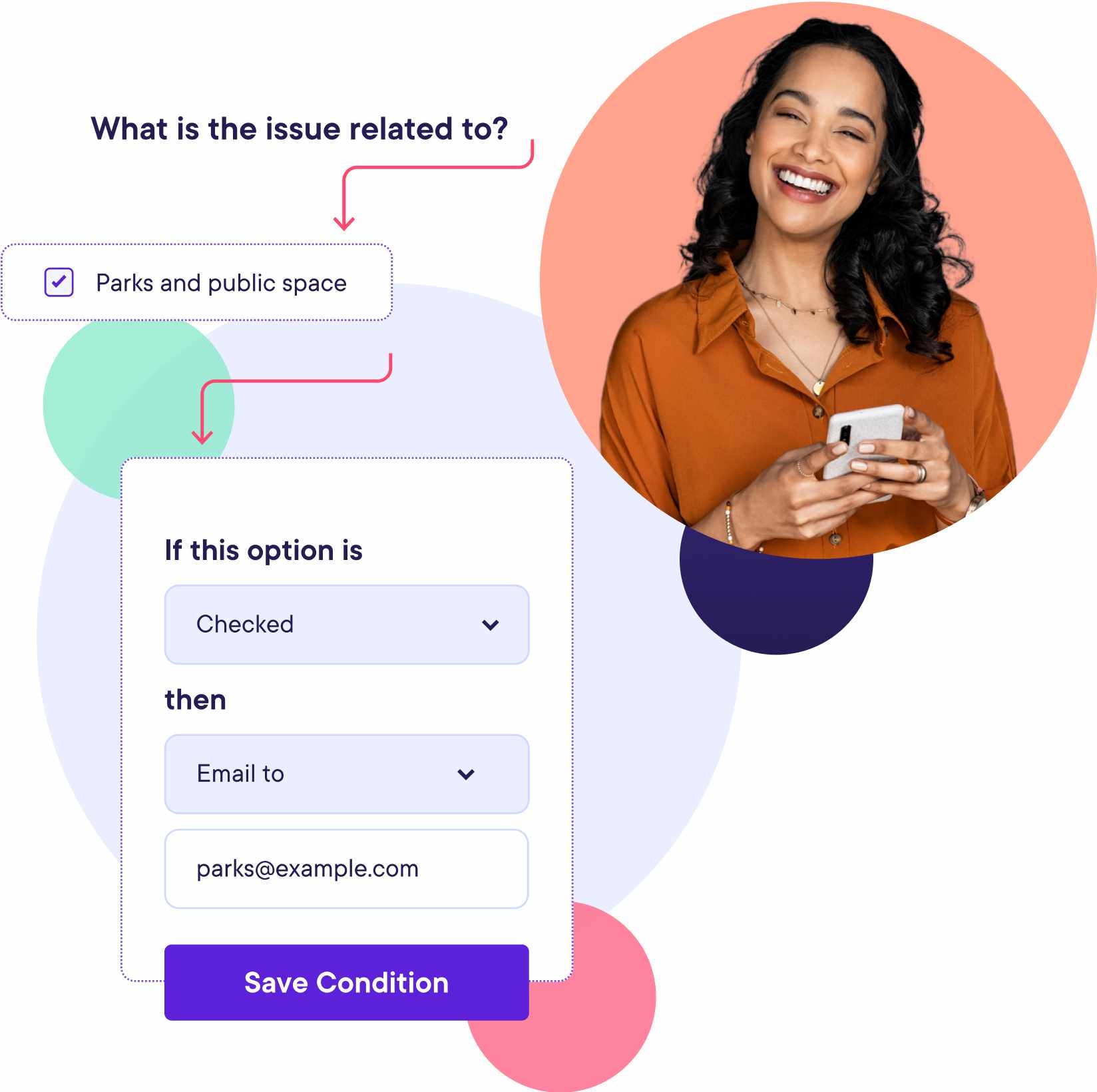 Designed for cities, governments and enterprises.
Our powerful and user-friendly platform enhances customer satisfaction and engagement.
Quick, intuitive form creation
Build complex, multi-step web forms using our intuitive drag-and-drop interface and pre-built form elements.
Extendable and reusable
Choose from a wide range of form elements and field types. Save and reuse across multiple applications.
Seamless data integration
Post data to external applications, manage and search internally, or export data effortlessly.
Local Australian support
You can rely on our dedicated Australian-based operations team for prompt and efficient support,
Secure data sovereignty
Protect your data with our government-compliant, secure solution.
Mobile ready
Responsive forms deliver a consistent experience across desktops computers, tablets and smartphones.
Comprehensive reporting from customised dashboards
District Smart Forms offers reporting and analytics capabilities designed to support a distributed authorship model. 
With multi-level reporting for platform, teams, and projects, you can easily compare and analyse data across your organisation. 
Customisable dashboards provide essential analytics, shortcuts and platform activity updates tailored to every user's role and permissions.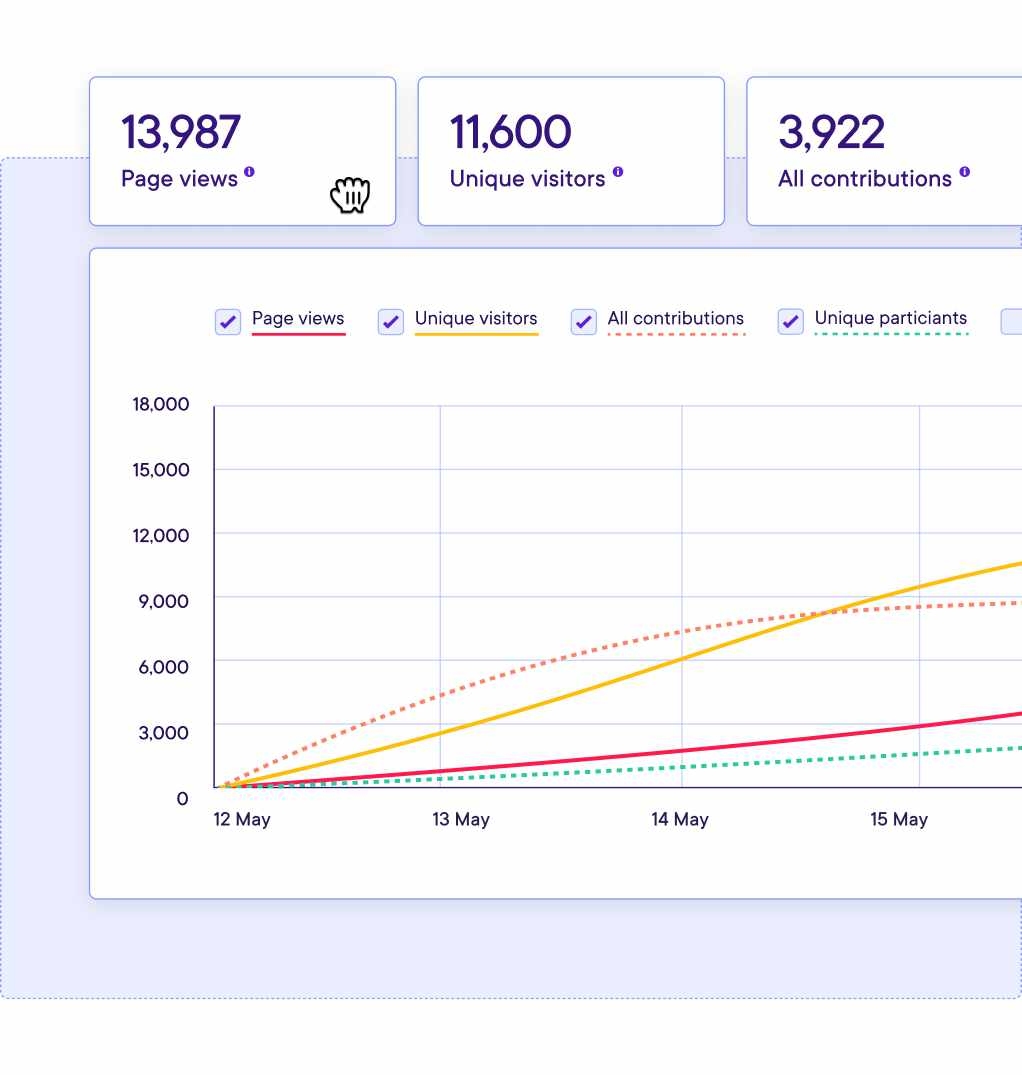 Efficient collaboration made easier with flexible permissions
Secure collaboration is simple with District Smart Forms' advanced permission management system. 
Administrators can set granular access levels for individual users or groups, ensuring each team has the level of access they need without sacrificing security or control. 
This allows departments within your organisation to collaborate efficiently on projects while maintaining data privacy and streamlined workflows.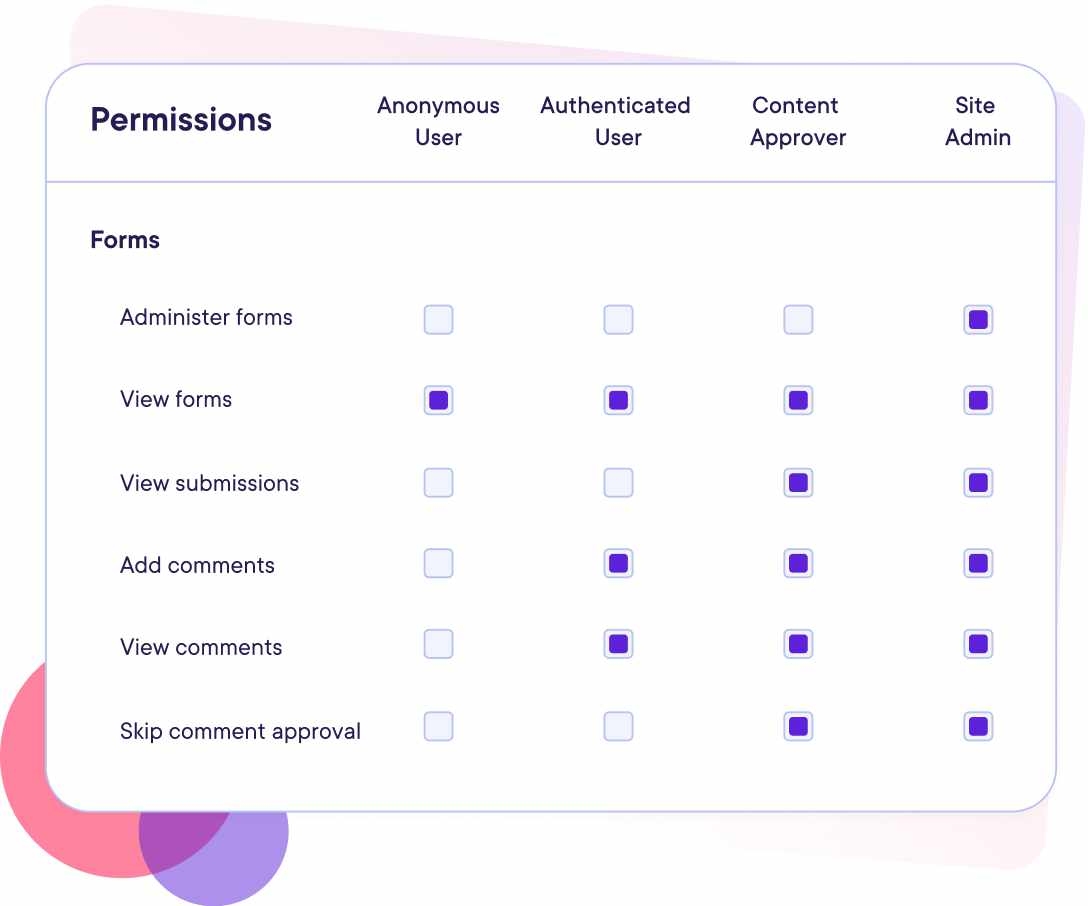 Seamless data exports for speedy analysis
Effortlessly export data from District Smart Forms to CSV or Excel formats, ensuring compatibility with your preferred data analysis tools. 
Quickly analyse form responses, identify trends, and make informed decisions based on the collected information. 
With our easy-to-use exporting options, you can save time and effort while maintaining accurate and organised data for all your online applications, surveys, and forms.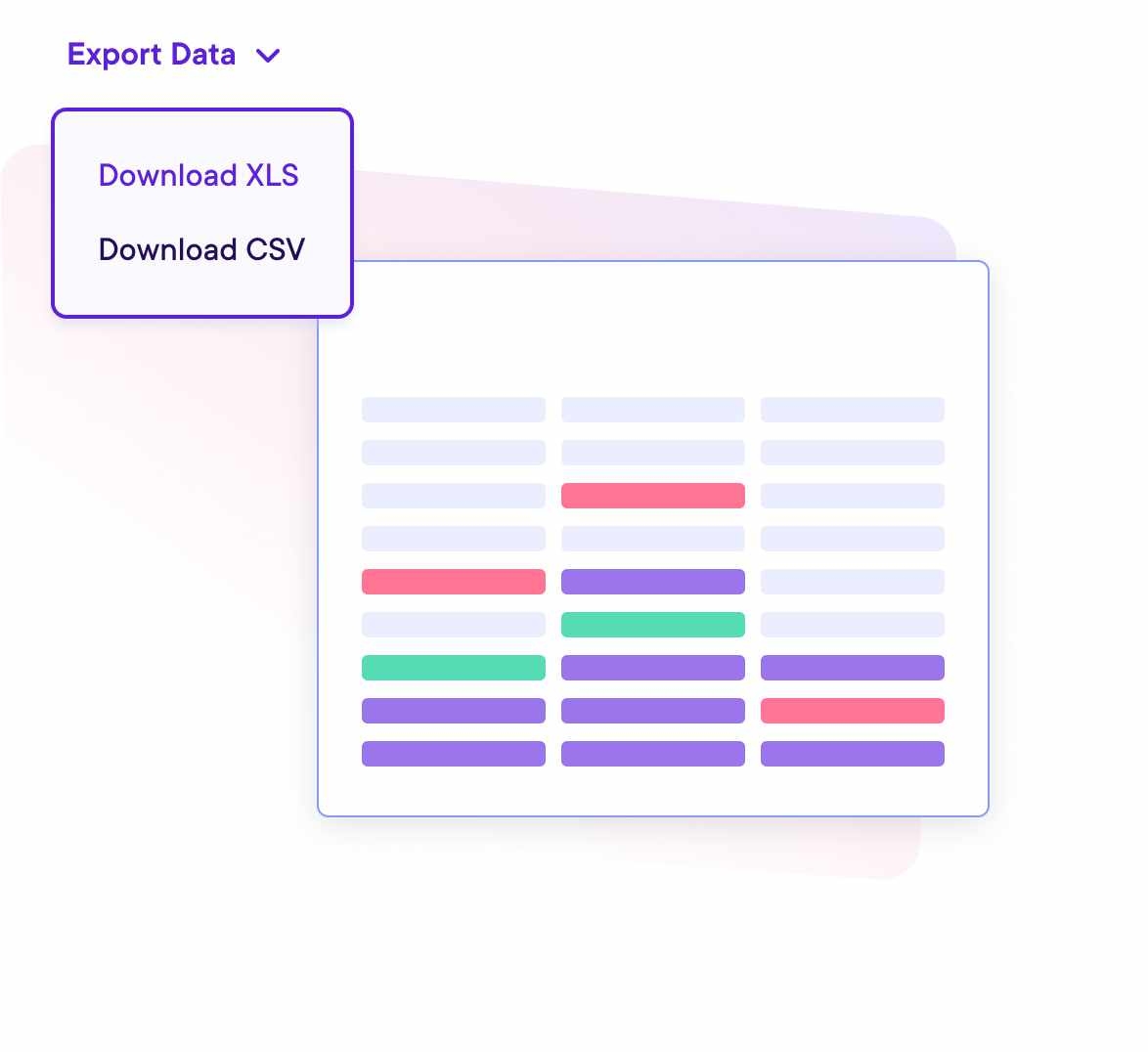 Smart and sophisticated middleware framework
Smart Forms delivers seamless system integrations that simplify user interactions with submissions and payments.
Our custom form integrations enable two-way communication with CRMs and ERPs, enabling pre-population of forms and payment reconciliation.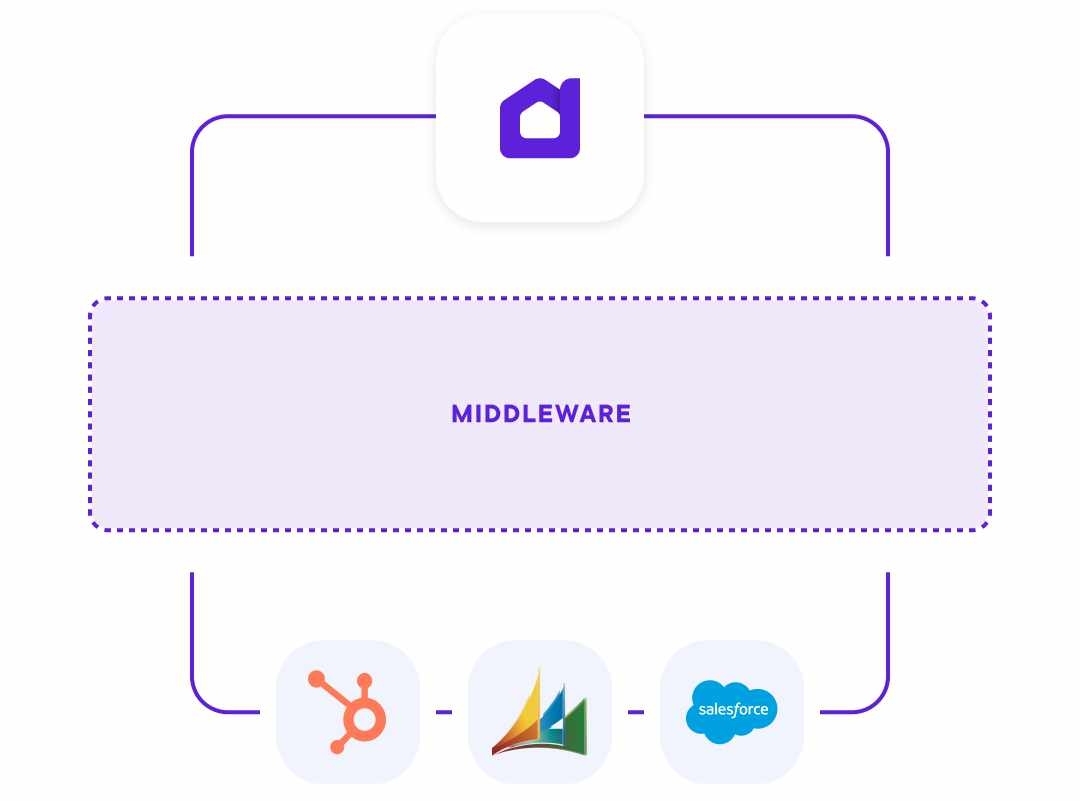 Enjoy increased efficiency, reduced manual data entry, and enhanced accuracy across the board.
Conditional questions
Build a personalised survey experience by displaying relevant fields based on a participants prior responses.
Custom administration
Create custom workflows to manage form creation, publication, and data access.
Simplified payments
Quickly create bespoke form pages to process payments. Hassle-free integration with payment providers.
Growing form library
Utilise a detailed library of components, field types, and ready-made forms, whatever you need.
Smart data collection
Transform data collection into a simplified, digitised process with District's Smart Form technology.
Automated emails
Send personalised, relevant system emails, automatically.
Custom notifications
Configure notifications to alert users and groups, or send emails based on user submissions.
Multilingual support
Translations are available for LOTE users. You can create multiple forms in multiple languages.
Get started with District Smart Forms
Discover the full potential of District CMS for your organisation! Don't miss out on the opportunity to explore our powerful features and seamless integrations. Book a personalised demo with our expert team, or download our comprehensive brochure to learn more at your own pace
Product guide
A deeper dive into our engagement tools and services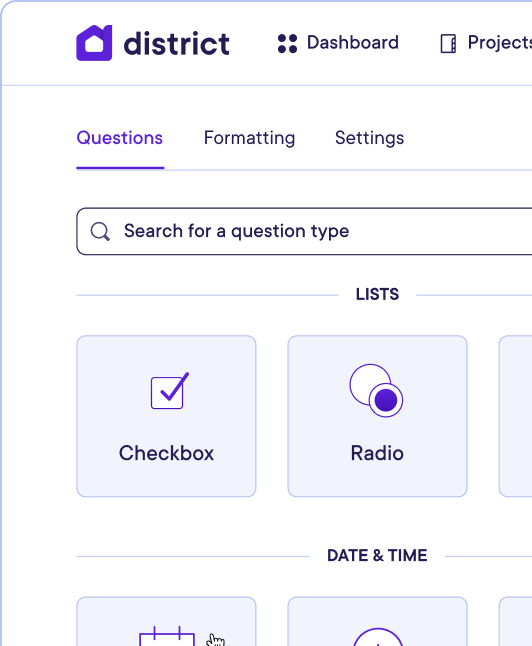 Guided tour
Book a guided walk through of our user admin and powerful tool set.