District Engage
Community engagement platform
District Engage provides a powerful set of engagement and reporting tools delivered through an intuitive, flexible platform.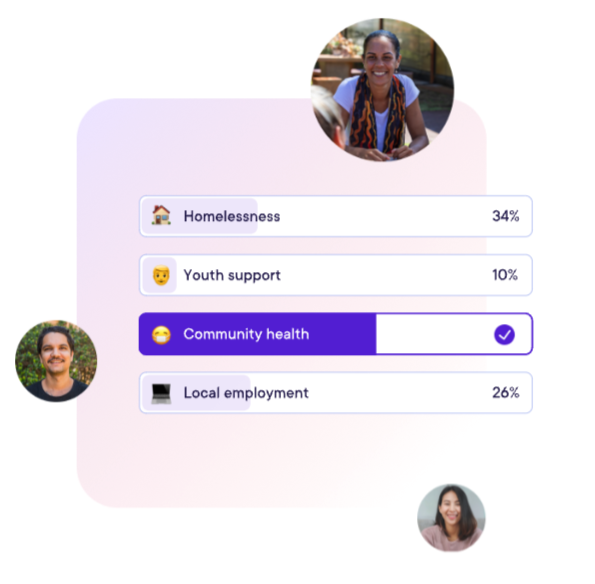 Welcome to the next generation community engagement platform
District Engage is an advanced online public consultation platform capable of maximising community engagement through leading technology, research and a citizen-centric experience.
Driving online consultation, District Engage increases the speed to market of consultations, reduces administrative overhead and provides real-time report analysis, analytics and human readable reports.
https://assets5.lottiefiles.com/packages/lf20_y2h4cmww/Welcome%20Animation%20Lottie/data.json
false
false
District Engage offers a comprehensive suite of community engagement tools
Our tools suit the needs of most organisations seeking community feedback and are complemented by a highly configurable framework and API-first platform for complex data and third party integrations.
Intelligent
Machine learning technology to drive real-time insights and reports
Simple to use
Rapidly build and publish consultations through our intuitive platform
Custom experience
Customisable to suit your brand, consultation structure and audience
Intuitive platform management
District Engage's simple and autonomous process for managing projects, consultation tools and workflows minimises administrative overhead associated with public consultation. 
District Engage has an intuitive user interface that enables administrators to set up teams and projects easily and efficiently without any technical background or extensive training.
https://assets10.lottiefiles.com/packages/lf20_ypbmduhw/Engage Intuitive Animation Lottie/data.json
false
false
Reports
District Engage provides customisable reporting dashboards and templates to help you uncover trends, better understand community sentiment and drive informed decision making. 
Platform and project data is visualised in easily digestible graphs or charts, and administrators can export reports as raw datasets, images or presentation-ready PDF's.
https://assets1.lottiefiles.com/packages/lf20_ifnikdc0/Engage Reports Animation Lottie/data.json
false
false
Configure to suit
District Engage brings together tools and workflows used by government agencies through best practice platform architecture and service design, with the aim to improve the overall end user and administrator experience.
As each organisation has unique requirements for workflows and user engagement, District Engage allows a high level of customisation of platform configurations, assets, content and functionality, with the aim to provide bespoke workflows and improved customer experience.
https://assets4.lottiefiles.com/packages/lf20_ojg4obiu/Config Lottie/data.json
false
false
Content review and publishing workflow
Granular roles and permissions
Custom branding, for the site, and for each department
Complete custom front-end interface
Custom moderation workflows
Page and menu structure customisations
Custom branded pdf reporting
Department specific platform pages
Engagement toolbox
A suite of tools to empower engagement mangers to increase participation and improve democratic reporting.
Advanced Surveys
A powerful and intelligent form builder provides the flexibility to create simple or complex surveys, embed media, form step validation and question based logic. 
Quick Polls
Gather feedback and report real time results through dynamic charting. A jumpstart participation tool encouraging simple and quick feedback.
Forum
Drive topic based discussions in a safe and interactive space, allowing community members and decision-makers to engage with each other in threaded discussions.
Map-based Feedback
Gather spatial feedback and photos directly on a map with a simple pin drop, giving the community the opportunity to share insights on specific geographic locations. 
Moderation
Streamline and automate the review of incoming public comments, ideas or discussions, and prioritise comment review actions. 24x 7 manual moderation can incorporated as an additional layer.
Powerful Search
Elasticsearch, is a powerful application that supports fuzzy matching, yielding misspelt words in search results and wildcard queries to help your users find exactly that they need.
Community updates
Keep the public up-to-date as your project moves from inception through to conclusion. 
Subscribers receive real-time updates as your consultation moves through each phase. 
District Engage users can subscribe to categories and locations and be informed when new projects of interest in these areas are published. 
Additionally, the public can share information through social media integration that increases project visibility and reach.
https://assets8.lottiefiles.com/packages/lf20_6wtlygpp/Community Update Lottie/data.json
false
false
Elevate your community engagement
Take the first step towards a more connected, informed, and engaged community.