Community engagement practitioners know how important it is to draw on the unique experiences and insights of a community to find solutions to issues that affect them.
Which is why design thinking, with its focus on a human-led approach to problem solving, can offer community engagement practitioners new ideas and creative tools to help them approach complex problems in the community.
In this article we'll look at how using design thinking can improve community engagement practices.
What is design thinking?
Design thinking is an iterative, hands on and thoughtful process for creative problem solving. It uses empathy, experimentation and iteration to arrive at a solution that's effective and innovative.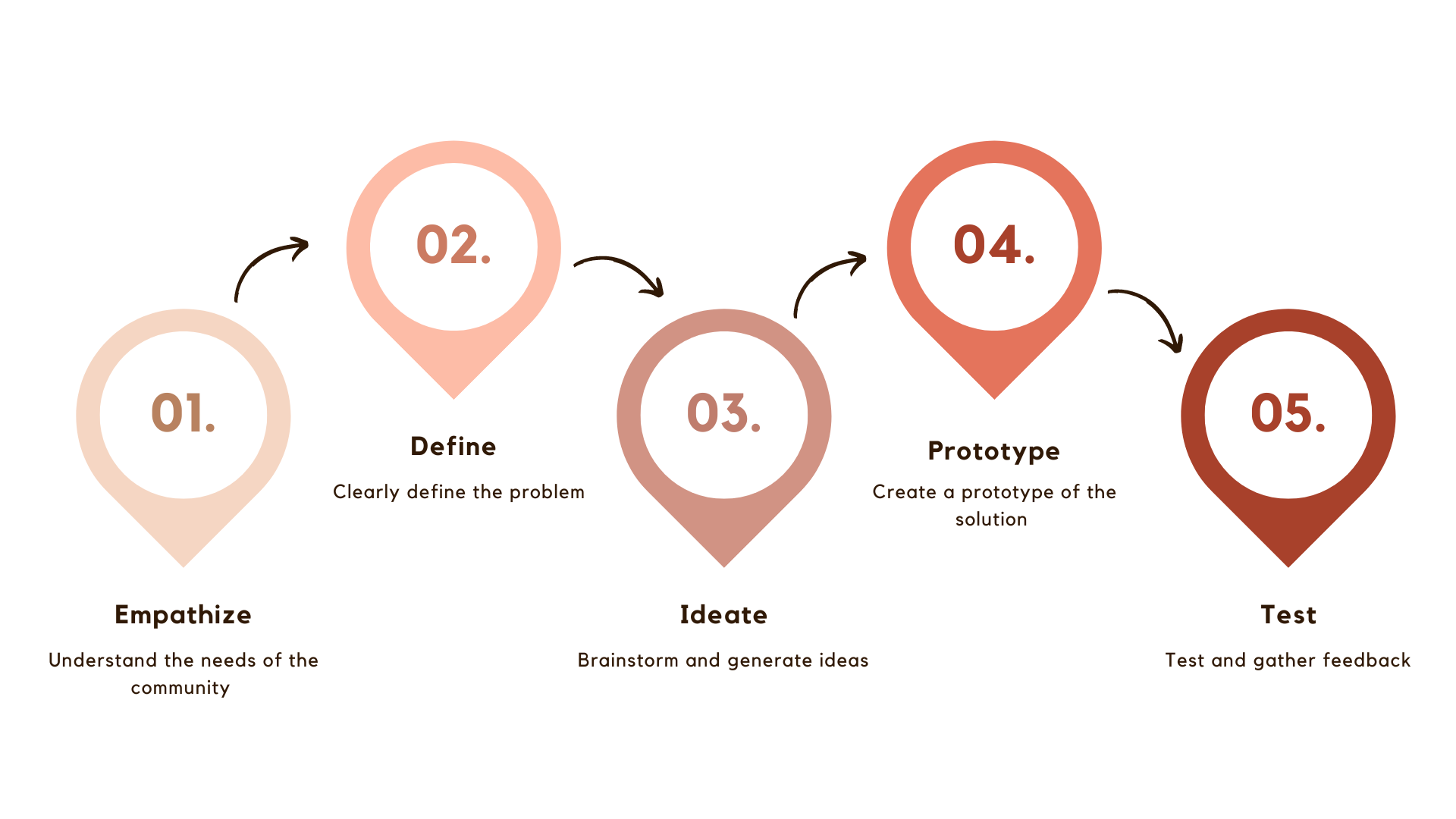 Using design thinking in community engagement
With its emphasis on individual experience, design thinking is a helpful addition to the community engagement practitioner's toolbox, particularly in the initial phases of a project.
The first stage of design thinking, "empathise", aligns with the initial task of a community engagement practitioner: understanding the problem and how it impacts a community.
The best way to achieve this is simply to talk to people. Ask questions, observe their behaviour and use participation tools like surveys and polls to try to understand the issue from their perspective.
But what people think deep down might be quite different from what they say out loud. That's where design thinking can be useful.
Using a combination of user research and empathy tools can reveal more about your participants' actual behaviours, needs, values and motivations than anything they might say.
In addition, using design-based activities might also encourage those people who aren't comfortable in conversation-focussed activities to get involved.
Defining the problem for community solutions
For community engagement teams, understanding "why?" is fundamental. Why this project? Why now? Why this community?
The "why" will influence every survey, poll and engagement opportunity over the course of the project.
This aligns with the "define" stage in design thinking, the path to clearly articulating the issue or opportunity.
In this stage, the data and insights collected during the "empathy" stage are carefully synthesised. Collaboration with community stakeholders during this stage helps to develop a shared understanding of the problem, so that everyone is on the same page.
Get creative with ideation tools
Once the problem has been identified, design thinkers use ideation tools to generate a creative approach to solving the problem.
Tools such as brainstorming, mind-maps and storyboarding are used to spark ideas and drive solutions. One tool that is particularly useful for community engagement practitioners is to define user personas and individual user journeys - these can help reveal potential solutions.
Putting design thinking into practice
To create products at the forefront of innovation, District uses design thinking methodology in their internal product development. This cycle of definition, iteration, prototyping and testing, often in collaboration with stakeholders, ensures their products meet the evolving needs of customers and clients.
District also uses design thinking in client projects, such as in a recent redesign of a website for a local council in Melbourne's eastern suburbs. The brief was for a website that represented Manningham's multicultural and linguistically diverse community, and boosted engagement and participation.
During the "empathise" stage of the design process, the District team interviewed residents from a diverse range of cultural and language backgrounds in order to develop a deep understanding of their experiences of interacting with the local government.
This research helped to clarify what the local community needed from the website, and later influenced the structure, navigation and search functions of the new design.
During the "ideate" stage, the District team worked closely with community and council stakeholders to design personas and user journeys to map out ways different groups would interact with the website. These guided the decision-making process and were pivotal during the design and development phase.
The Council's new website is a simplified and inclusive user experience. Clear and concise design and a dedicated space for multicultural content reflects the vibrant community and encourages engagement and a sense of belonging.
Community engagement practitioners know that there is no such thing as a one-size-fits-all solution to complex problems in a community. That's why design thinking can be such a powerful tool. You can deepen your understanding of a community and its issues with the help of user research and empathy tools, and then use ideation tools to design and deliver creative solutions.
Using design thinking can help you deliver tailored solutions and better outcomes for the community you serve.