In today's digital landscape, information is everywhere, and engaging users is a key priority. It's no surprise, then, that qualitative analysis is emerging as a powerful tool to understand our user's behaviour, optimise our digital strategies and enhance engagement with our audiences. So what's the best way to use qualitative analysis?
In this article we will look at how to decipher the insights we get from our qualitative data research, and use them to craft impactful executive summaries that can help us pivot our content strategy to deliver lasting results.
What is qualitative analysis?
Unlike quantitative analysis which focuses on numerical data, qualitative analysis looks to understand the insights and patterns in non-numerical data. It's about trying to make sense of subjective experiences, beliefs, and behaviours.
Put simply, it's about understanding the "why?"
For community engagement practitioners, qualitative analysis is fundamental to understanding the motivations and behaviours of individuals, and their feelings about a particular issue or proposal.
By examining and interpreting the data captured in interviews, observations, focus groups or open-ended survey responses, qualitative data can help us explore the depth and complexity of human experiences.
What are the benefits of qualitative analysis?
There are a lot of benefits to using qualitative analysis:
In-depth insights: We can discover rich and detailed insights about individuals' thoughts, emotions, motivations, and behaviours.
Understanding context: When we use qualitative analysis to explore social, cultural, and environmental contexts, we get a better understanding of the factors influencing human experiences.
Flexibility and adaptability: Qualitative researchers can be flexible with their research methods and easily adapt them in response to emerging findings and new perspectives.
Empowering participants: Qualitative research gives participants a voice and a chance to share their experiences.
Key steps in qualitative analysis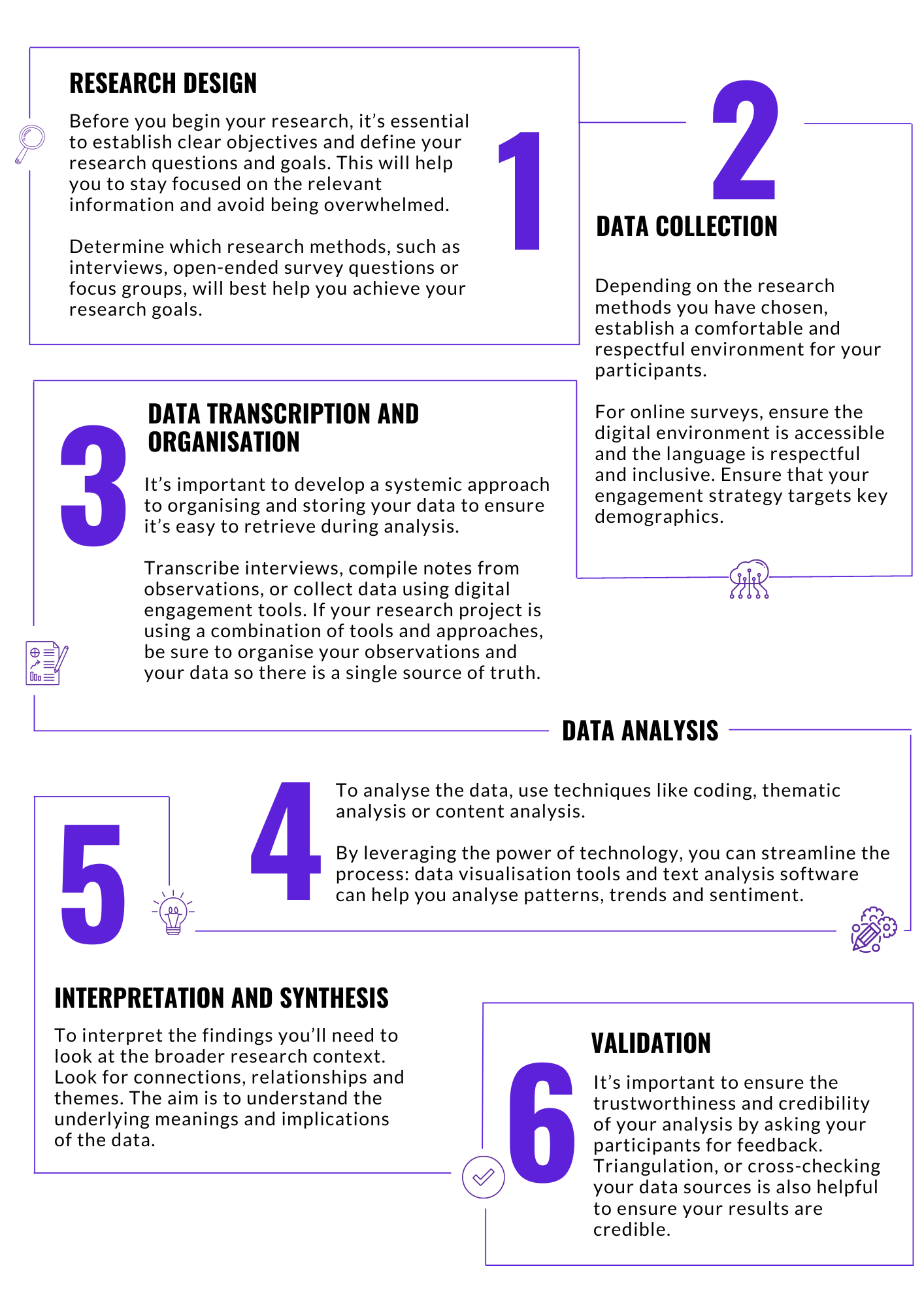 What's the best way to understand your results?
Understanding qualitative data is complicated. Unlike quantitative analysis, there are no simple answers. To navigate through the layers of language, sentiment, and personal experiences to find compelling data you can utilise, there are several methods.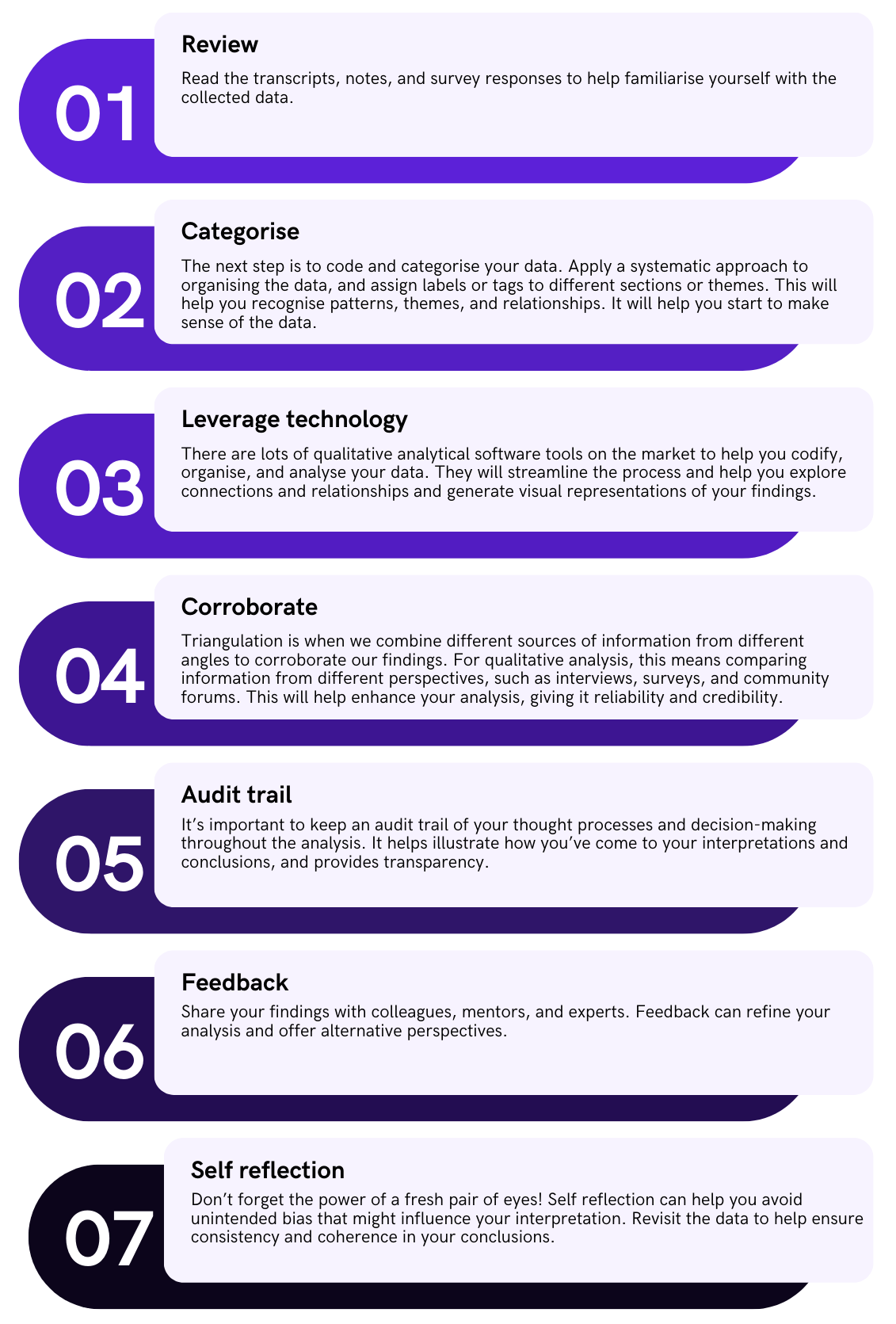 The impact of an executive summary
An executive summary is a concise overview of your research and its findings. It will help your stakeholders grasp the key insights of your data-driven analysis, and provide recommendations on next steps. A well-written executive summary will give your stakeholders the information they need to drive impactful change. Here are some suggestions to consider:
Be relevant. Make sure that the information you include in the summary is directly relevant to the research objectives.
Keep it brief, while still providing enough information to support your findings.
Engage your readers with visual aids such as charts, graphs, and infographics.
Highlight your key findings and include supporting evidence from your qualitative data.
Provide actionable insights and recommendations for next steps based on your analysis.
Provide supplementary material for those readers wanting more in-depth information.
Qualitative data is a powerful tool for understanding the deep-seated motivations and feelings that drive audience behaviour. By harnessing the power of this information, whether by systematic and methodical analysis or by leveraging new technologies, we can use this data to build a better understanding of our users while enhancing our digital strategies to better reflect their needs and behaviours.
To find out more about how District Engage leverages machine learning and NPL to drive qualitative analysis of our clients' users, talk to us today.