Just as the world slammed its borders shut to the Covid epidemic, stopping the tourism industry in its tracks, the West Australian Government decided the time was right to embark upon a planned project to deliver an online portal to provide tourists with a guide to the myriad of historical and cultural collections in the WA regions. 
Given the extraordinary circumstances, was there really any appetite for such a project, especially one which was focused on often potentially overlooked regional historical, curios and art collections? 
The project to build a West Australian regional collections and tourism portal, which would complement the "Wander Out Yonder" tourism campaign kicked off in late 2020.
Two companies worked closely together with the Museum and State Government to deliver the project. Block Branding relished the opportunity to develop a vibrant brand for Western Australia's regional communities' collections, while District, which had recently launched the Drupal-powered District platform, was excited to use its new CMS to deliver an innovative solution.
"We needed two partners who knew their stuff, who could work together, and could present a seamless front to the client, so they didn't feel as though they were working with two agencies" - explains Natalie Jenkins of Block Branding.
The finished project, WAnderland, is an exciting gateway for exploring regional WA, through an arts, culture and historical portal.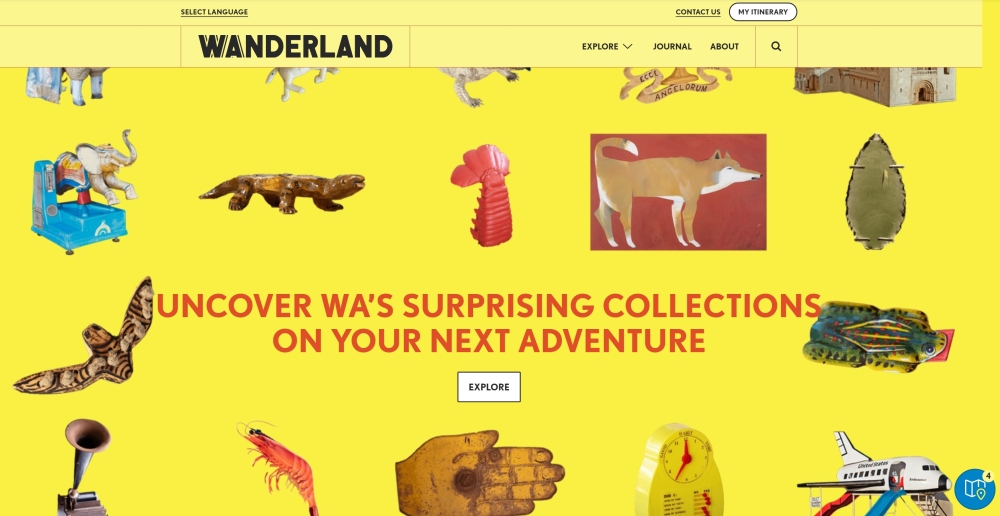 It's a far cry from a dry tourism website. WAnderland is an immersive experience, where exquisite photography sits alongside stories, snapshots and travel information of some of the extraordinary collections and cultural highlights scattered throughout WA.  
In a masterstroke, WAnderland combines the great Aussie road trip, the stunning regions of WA, and the collections scattered across the state. It's a quirky, colourful and grassroots celebration of community and culture, bundled up in an online portal that redefines and celebrates Western Australia.  
Of course, when the project was first conceived, its audience was international and interstate visitors. But with the State locked down, the project had to pivot and speak to locals instead.
Ironically, this inspired the project's greatest asset - the itinerary.
As the brief was to consider the platform through a tourism lens, there is no one-size-fits-all approach to using the itinerary - it's been designed for the individual traveller in mind.
Choosing from four regional areas, the Coral Coast, Golden Outback, North West or South West, visitors can browse through the private collections, museums, galleries and regional delights on offer. With a simple click, you can add destinations to an itinerary, which can be viewed, edited, mapped out and saved, so you are ready for the open road with a personalised travel guide at your fingertips.
For some visitors, it will be a way to map out their journey around WA, while incorporating stopovers in towns that offer intriguing side trips. Others might search by collection, seeking out collections that hold particular interest. Other visitors will be heading to the regions, and want to see what's on offer.
WAnderland doesn't look like your traditional tourist campaign.
It may have been a delicate balancing act between promoting West Australia as a brand, while delivering a community-driven tourism guide, but WAnderland connects perfectly with the communities it celebrates.
"It absolutely speaks to people's passions and the different communities people live in," explains Natalie. "There is such diversity out there. It gives you the inspiration to get out there and keep looking."
Ultimately, despite all the roadblocks that stood in its way, WAnderland was the little project that could. Two design agencies worked together to design a tourism campaign that not only helped to draw attention to some fantastic regional collections, but also helped to define the WA brand. Meanwhile, the locals of WA, stuck close to home due to COVID, suddenly started exploring their own backyards. From what looked like an implausible project to begin with, suddenly looks like a no-brainer.